Gates of Thread and Stone by Lori M. Lee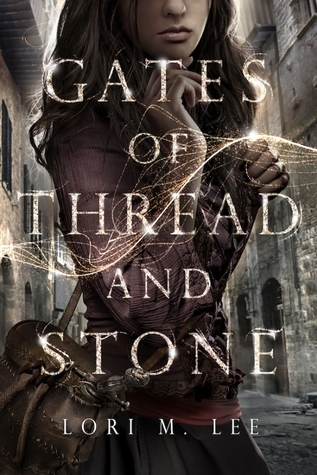 Goodreads
In the Labyrinth, we had a saying: keep silent, keep still, keep safe.

In a city of walls and secrets, where only one man is supposed to possess magic, seventeen-year-old Kai struggles to keep hidden her own secret—she can manipulate the threads of time. When Kai was eight, she was found by Reev on the riverbank, and her "brother" has taken care of her ever since. Kai doesn't know where her ability comes from—or where she came from. All that matters is that she and Reev stay together, and maybe one day move out of the freight container they call home, away from the metal walls of the Labyrinth. Kai's only friend is Avan, the shopkeeper's son with the scandalous reputation that both frightens and intrigues her.

Then Reev disappears. When keeping silent and safe means losing him forever, Kai vows to do whatever it takes to find him. She will leave the only home she's ever known and risk getting caught up in a revolution centuries in the making. But to save Reev, Kai must unravel the threads of her past and face shocking truths about her brother, her friendship with Avan, and her unique power.
About this author
Review:
I've always been a huge fan of action books, and Gates of Thread and Stone's synopsis sounded like it was going to have a lot of kickass action. Actually, the part of the summary stating
"In the Labyrinth, we had a saying: keep silent, keep still, keep safe."
made me have high expectations for the action. It's similar to the summary of
The Walled City
by
Ryan Graudin
-
"There are three rules in the Walled City: Run fast. Trust no one. Always carry your knife."
; (which had GREAT action scenes) so I was extremely excited to see awesome action scenes. However, the action in the book didn't really live up to my expectations. They were well written, but they left me feeling kinda "meh", instead of "OMG ASDFHJKL WHAT IS THIS I'M SO EXCITED AND SCARED". So because of that, I had to dock off a star for my rating.
But besides that qualm, everything else was very well-written. The book flowed smoothly, the characters were independent and strong, and the world-building was phenomenal. Most of all, Kai was not a pathetic, dependent-on-men kind of heroine. The romance between Avan and Kai was pretty slow (in the way that they took a LONG time to admit their feelings for one another) and it was written painfully and beautifully because the whole time I just wanted to scream and bash their heads together so they would kiss. I thoroughly enjoyed this book, and I think other people will as well. On a side note, I was really surprised by the ending and frustrated by the cliffhanger- and now I'll have to wait a long time for the sequel.




Four Chocolates!
Disclaimer: Thanks to Goodreads and Amazon for the book cover, about the book, and author information.